This Long-Term Bitcoin Price Average Is Setting ATHs – NewsBTC
Bitcoin price is nowhere near setting new all-time highs, but an important long-term price average is doing so, day after day, month after month.
What is this moving average being referenced, and what does it setting new highs potentially mean?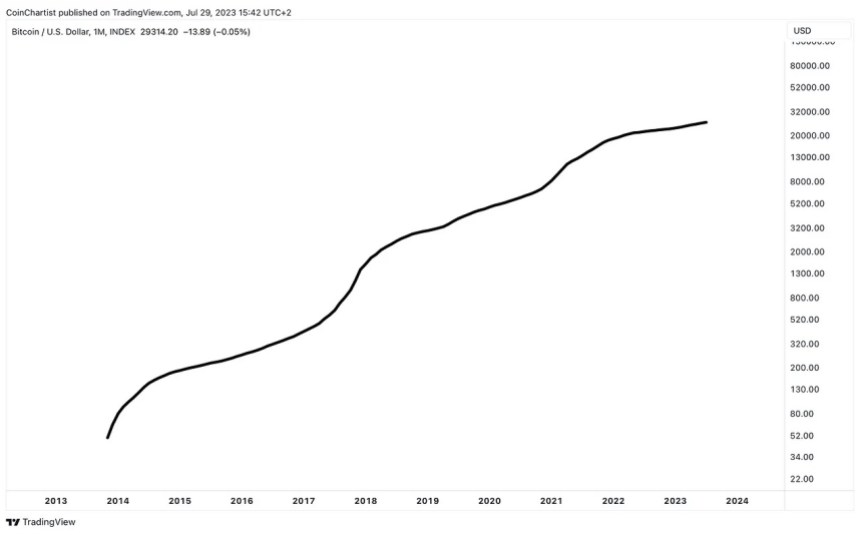 As Bitcoin and the rest of the crypto market grind painfully sideways, a key measure using a moving average of BTCUSD price action is rising steadily, now at its highest point ever historically.
The moving average in reference is the 50-month moving average (50MA). To calculate the span, simply take the last 50 months worth of BTCUSD closing prices, add them together, then divide them by the 50 (the number of months worth of data in the period).
Traders use moving averages for a variety of reasons. This includes as trend-following tool, as trend lines, and for timing entries and exits. Such signals trigger when price passes above or below the span, or if two moving averages crossover one another in a two-moving average system. These are called a golden cross or death cross.
#Bitcoin's 50-month moving average continues to set new record highs
Without all the noise, the primary trend points upward pic.twitter.com/HG8gjO3Gn6
— Tony "The Bull" (@tonythebullBTC) August 2, 2023
The 50-month moving average making new all-time highs, general means the primary trend is still up. The chart above shows the long-term uptrend clearly without the noise of candlesticks or price action. With the candlesticks turned back on, Bitcoin is above the span — another bullish sign.
BTCUSD closed above the 50MA back in March 2023 and has since held above it for several months. Notably, Bitcoin lost this level for the first time back in June 2022. Meanwhile, the top cryptocurrency bottomed precisely at the 50MA in 2018 and again in 2020.
The 50MA is currently at $26,353 and could act as support of retested. If lost, it could be a sign the longer-term trend is turning bearish. The 200-week moving average, another similar high timeframe price indicator that is used widely in technical analysis, is also at a similar level and trending upwards.
This chart originally appeared in Issue #14 of CoinChartist (VIP). Subscribe for free.
Tony is the "always-on" Editorial Director and Head of Research at NewsBTC, leading a talented team of writers and editors across several different global time zones. Tony is also the founder of CoinChartist.io – an educational website focused on crypto trading. Partners include Elliott Wave International, TradingView, and more. Tony's background includes an extensive, award-winning media production career and over fifteen years of publishing operations and management. In the past, Tony has founded several media websites and his content has been read billions of times. Past clients include the BBC, Fidelity, and many others. Tony "The Bull" is a level 3 CMT student (passed level 1 & 2), technical analyst, Bitcoin supporter, and avid speculator. He owns a python named Satoshi. Tony longs for the day when money is separated from the state. Tony is deeply fascinated by core market principles such as Elliott Wave Theory as they tie into mathematics like Fibonacci ratios. Market timing though DeMark indicators, Ichimoku, Gann tools, or Hurst Cycle Theory are also of key interest. Tony provides completely original content driven by exclusive, independent research. For more insights and education from Tony, check out his free TonyTradesBTC Telegram channel. Follow @TonyTheBullBTC on Twitter. You can also follow @CoinChartist_io on Twitter and subscribe on YouTube.
NewsBTC is a cryptocurrency news service that covers bitcoin news today, technical analysis & forecasts for bitcoin price and other altcoins. Here at NewsBTC, we are dedicated to enlightening everyone about bitcoin and other cryptocurrencies.
We cover BTC news related to bitcoin exchanges, bitcoin mining and price forecasts for various cryptocurrencies.
© 2023 NewsBTC. All Rights Reserved.
© 2023 NewsBTC. All Rights Reserved.