friend.tech: Guide to use the hottest Dapp on Ethereum – Techopedia
Mensholong Lepcha is a financial journalist specializing in cryptocurrencies and global equity markets. He has worked for reputed firms such as Reuters and Capital.com. Fascinated…
friend.tech is a crypto-powered social network that took the Ethereum world by storm in August 2023. Users on friend.tech must buy shares of another person in order to chat with them. Users sign up on friend.tech using their Twitter accounts. Each individual will have shares tied to their account. The shares tied to an individual can be bought and sold, depending on which the price of their shares goes up and down. However, privacy concerns like access to user twitter accounts have surfaced which may deter new users. Learn how to use friend.tech and its possible risks here.
A crypto-powered social media platform is taking the crypto world by storm.
friend.tech is the latest decentralized application (Dapp) to capture the minds of crypto enthusiasts.
While the concept of friend.tech is an exciting one, there are a few privacy concerns that have surfaced, as noted by its early adopters.
In this article, you will also find all the information you need to know about friend.tech – how to sign-up, how to find invite codes, and privacy concerns related to friend.tech.
friend.tech is a decentralized social network where a user must buy 'shares' of another person in order to chat with them.
Users sign up on friend.tech using their X (formerly Twitter) account. Each individual has shares tied to their account, which can be bought and sold, depending on whether the price of their shares goes up and down.
Users also earn trading fees each time their shares are bought and sold by anyone.
friend.tech launched in August 2023 on an ethereum (ETH) layer two blockchain called Base.
friend.tech calls itself "the marketplace for your friends" and here is how it works:
Amy is a popular crypto journalist who works at a renowned news agency. She has amassed over 100k followers on X and is revered for her analytic opinion on cryptocurrencies that she shares with her social media followers.
Brian is a college student who is interested in cryptocurrencies and blockchain. He has 50 followers on X.
Amy and Brian sign up for friend.tech. Both Amy's and Brian's shares are initially priced at 0.0004 ETH. Amy's social media followers buy $AMY shares, and her share price quickly rises to 1 ETH.
Brian is among her first buyers. He now has a direct chat channel with Amy.
Meanwhile, $BRIAN share price inches up to 0.0025 ETH thanks to his 5 close friends on friend.tech.
Brian sees that shares of $AMY that he bought at 0.0004ETH has now risen to 1ETH. He sells the shares to pocket a quick profit. Brian now looks for other profiles to speculate on.
At the time of writing, friend.tech worked on an invite-only basis.
You will have to get an invite code from a friend/colleague who has already signed up.
There is another way. I received my invite code on X. Search "friend tech invite code" and insert the code you find under the "Latest" tab.
You can also use friend tech invite codes from my profile (first come, first serve!):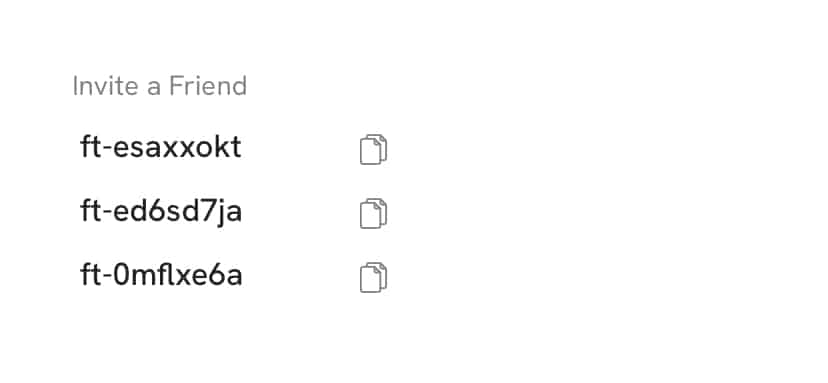 friend.tech is currently in beta mode. You will not find a dedicated application on App Store or Google Playstore, and you will not be able to access the platform via your desktop or laptop.
You can access friend.tech via your mobile browser (I used Safari). When you press "add to home screen", friend.tech app appears as a shortcut.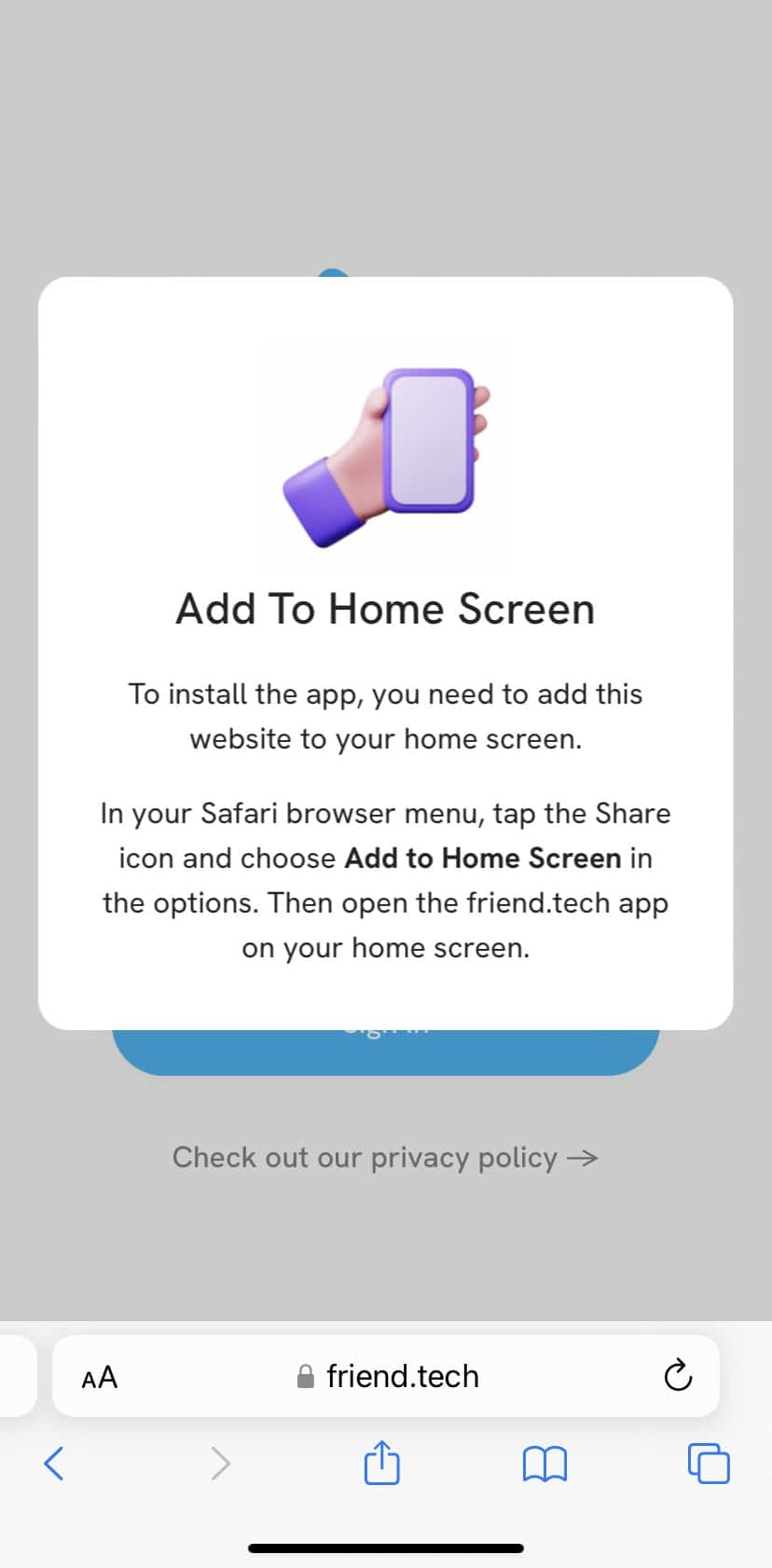 You are then asked for your Gmail or Apple email account to sign up.
Once you've acquired an unused invite code, your step is to connect your friend.tech profile to your X account.
Next, you will need to send ETH from your personal wallet to your friend.tech in-app wallet. If you do not add ETH to your friend.tech in-app wallet, you will not be able to proceed further.
In my case, I sent ETH from the Ethereum mainnet to my friend.tech in-app wallet.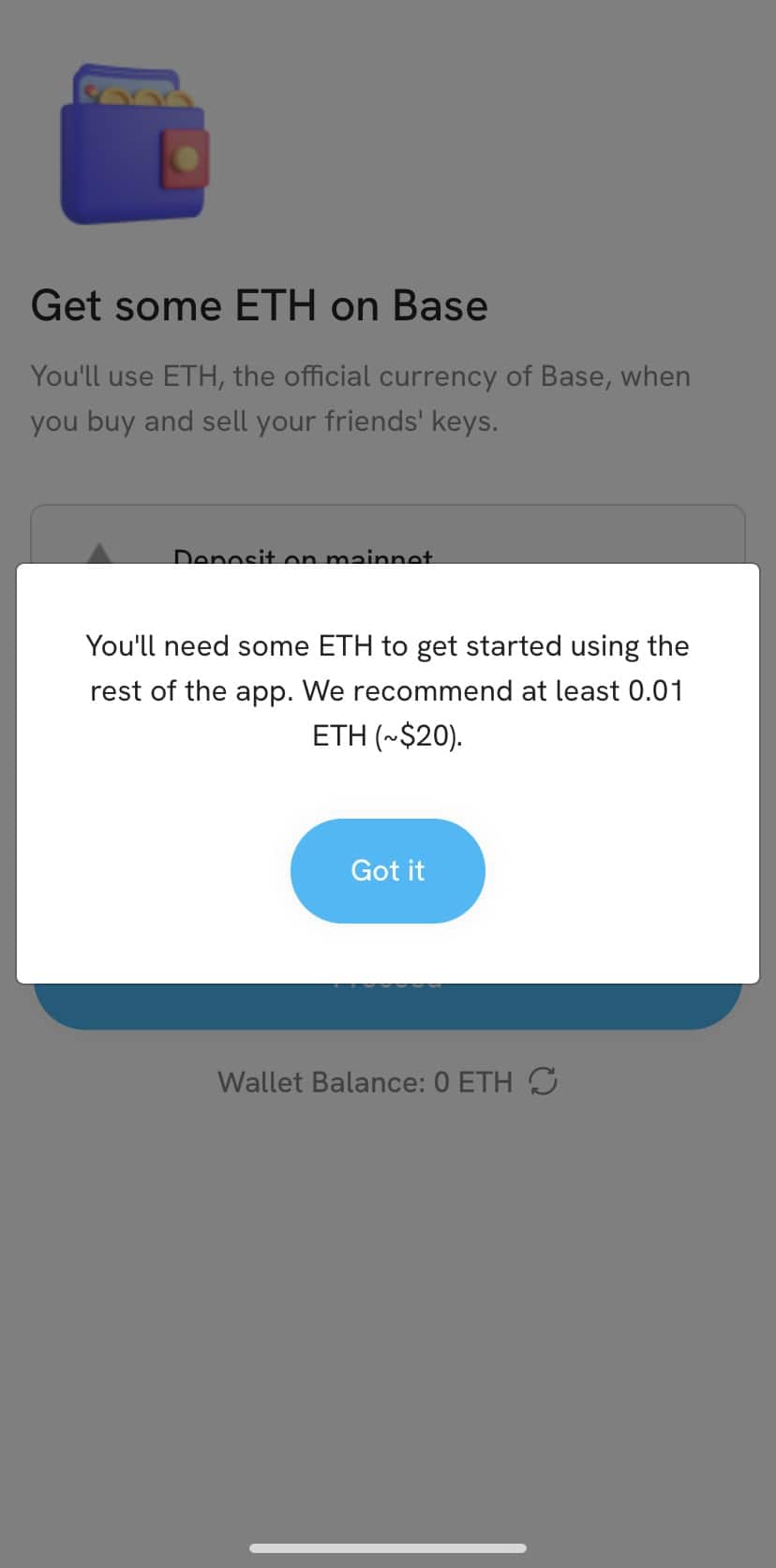 Once you've added ETH to your in-app wallet, you will be asked to "buy your first share", which is free.
You can now search for other accounts using their X usernames to buy and sell their shares. You will find the "Chats" tab to message other account holders (if you hold their shares).
You can also view your "portfolio value" and "trading fees earned" via the settings button.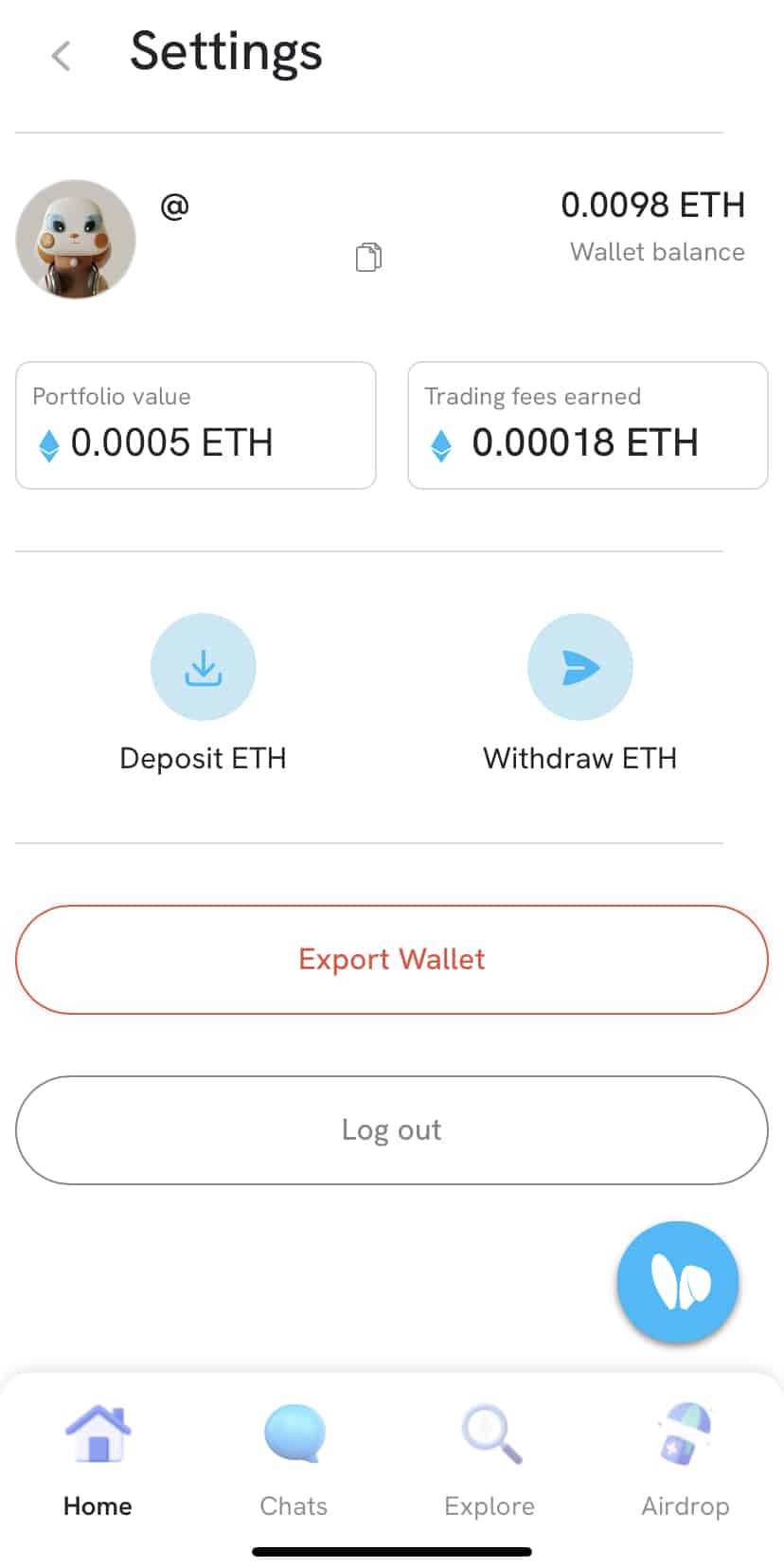 friend.tech launched soon after the Base blockchain opened to all public users in August 2023. The excitement around the Base blockchain and friend.tech's innovative take on social networking platform helped it become the most talked about Dapp on Ethereum in August 2023.
Data published on X by Yearn Finance developer banteg reported that over 101,000 users have signed up to friend.tech.
The surge in users has helped friend.tech generate over $1.68 million in fees in the last 24-hours, making it the second-highest revenue-generating crypto project in the last 24 hours ahead of staking platform Lido and layer one network Tron.
Only Ethereum mainnet generated more fees than friend.tech in the last 24 hours at $3.45 million, as of 22 August 2023, according to DefiLlama.
At the time of writing, much of the hype around friend.tech is around its monetary elements rather than its social networking utility. Crypto degens are speculating on famous personalities and trading their shares in the hopes of turning a profit. Dedicated websites like FriendMEX have popped up, which track the share price of an individual on friend.tech.
Traders are also using maximal extractable value (MEV) bots to scout newly-created accounts with a large following on X, in order to buy their shares for cheap and sell them later at a profit.
Adding fuel to the fire, crypto derivatives platform Aevo introduced an index perpetual contract that lets traders bet on the total market capitalization of all friend.tech accounts.
One thing people like @iam4x have been doing is building MEV bots that look for newly created accounts with big followings to instantly buy the first few of their shares and flip them for a profit.
Obviously this has been very profitable for people managing to do this.
— Daan Crypto Trades (@DaanCrypto) August 20, 2023

Several X users have pointed out that when you link your friend.tech account to your X account, friend.tech gets permission to tweet and retweet using your X account.
Users are encouraged to revoke the access by heading over to their X account settings.
One thing you should do if you are using friend tech is revoke access to X.
Head to settings, security and account access and just click revoke on friend tech.
You needed to connect it to begin with, but you can revoke afterwards.
friend tech will then no longer have access… pic.twitter.com/ljsi6M06Ch
— Aylo (@alpha_pls) August 21, 2023

On 21 August 2023, Yearn Finance developer banteg tweeted a github repository revealing the "leaked" X usernames and connected wallet addresses of over 101,000 friend.tech holders.
friend.tech clarified the incident on X, saying:
"This is just someone scraping our public API that shows the association between public wallet addresses and public Twitter usernames. It's like saying someone hacked you by looking at your public Twitter feed."
However, many X users remained unconvinced as they pointed to the lack of documentation on friend.tech's privacy policy.
At the time of writing, friend.tech's privacy policy says "coming soon."
friend.tech presents an exciting way to power social media platforms with cryptocurrencies. There is an opportunity to help artists, content creators and influencers monetize their work.
However, we have to urge caution as friend.tech is still very new and has not given its audience the reassurance that it is a safe Dapp and not a rug pull.
Like we always say in crypto, stay curious and always do your own research.
Mensholong Lepcha is a financial journalist specializing in cryptocurrencies and global equity markets. He has worked for reputed firms such as Reuters and Capital.com. Fascinated with blockchain technology, NFTs, and the contrarian school of investing, Mensholong has expertise in analyzing tokenomics, price movement, and technical details of Bitcoin, Ethereum, and other blockchain networks. He has also written articles on a wide range of financial topics including commodities, forex, central bank monetary policies, and other economic news.
What Is Litecoin? Litecoin is a blockchain project that is a fork of the older blockchain protocol – Bitcoin. It…
Jimmy AkiCrypto & Blockchain Writer
Blockchain is already a driving force in finance, contract management, supply chain operations, and a host of other business-related activities….
Arthur ColeTechnology Writer



By signing up, you agree to our Terms of Use and acknowledge the data practices in our Privacy Policy. You may unsubscribe at any time.
REGULATION & HIGH RISK INVESTMENT WARNING: Trading Forex, CFDs and Cryptocurrencies is highly speculative, carries a level of risk and may not be suitable for all investors. You may lose some or all of your invested capital, therefore you should not speculate with capital that you cannot afford to lose. The content on this site should not be considered investment advice. Investing is speculative. When investing your capital is at risk. Please note that we do receive advertising fees for directing users to open an account with the brokers/advertisers and/or for driving traffic to the advertiser website
Registered Address: Clickout Media Ltd AA PH, Camilleri Buildings, Oratory Street, Naxxar, NXR 2504 Malta Company Number 103525© Techopedia. All Rights Reserved.